One of the most important historical events recorded in the Bible, which portrays the experience of the people of God just before close of probation, it is the life of Jacob. One of the highlights of his life experiences was when he was wrestling with the Angel which we know to be Jesus Christ Himself. His experience was not only recorded in the book of Genesis but was also written by Prophet Jeremiah in chapter 30. Let us take a look at this very important experience of Jacob and see what the WORD of God has to say regarding this matter and when this will happen in the prophetic timeline. Once you know the truth, you can be able to detect the lies that are spewed out there by these apostate churches who want to twist and misapply Scripture.
One rule for studying the Bible is that we do not use a single verse to establish a doctrine. Remember, you need 2 or 3 witnesses to establish a doctrine. In the book of Jeremiah chapter 30, we a great detail of Biblical truth that happens in the time of Jacob's wrestling with God, which gives us understand for what we shall experience. In this chapter we can see two divisions of events. First is his TROUBLE, next follows his SALVATION.
In his trouble, we can find the following.
1.  Captivity. V3
2.  Trembling, fear and no peace. V5
3.  Travail, paleness. V6
4.  PROMISE: Salvation v7
5.  Corrected in measure. V11
6.  Bruised and wounded. V12
7.  Lovers have forgotten thee. V14
8.  No one to plead thy cause. V13
9.  Increased sins. V14
10. Afflicted and cried. V15
11. Preyed upon, devoured. V16
12. Outcast. V17
13. Chastised. V14
In the promised Salvation, we can find the following events happening:
1.  Yoke of captivity broken. V8
2.  Jacob returned, rest, quiet and none shall make him afraid. V10
3.  Full end of nations. V11
4.  Devourer devoured. V16
5.  Devourer in captivity. V16
6.  Spoiler spoiled. V16
7.  Them that preyed upon thee become a prey. V16
8.  Health restored, wounds healed. V17
9.  Thanksgiving, merry, glorified. V19
If you pay attention, you can find two groups of events that happened in his life which is the wrestling and salvation. By evaluating what he experienced during his wrestling, you can tell which period of our prophetic timeline will the saints experience this. It is clear that his time of trouble happens before probation closes. Why? One of the key points to notice is this:
1.  Jeremiah 30:3 he was in captivity
2.  Jeremiah 30:11 he was corrected in measure
3.  Jeremiah 30:14 his sins increased
4.  Jeremiah 30:15 he was afflicted and cried
If you pay attention to these experiences, it is clear that this is not going to be experienced by the saints after probation closes. The 144,000 are not in captivity once probation closes for they have already proven themselves and sealed by the Holy Spirit in which they cannot be moved by anything that happens around them.
Next point, during the plagues, the 144,000 will no longer be corrected by God not in any small or great measure. God will no longer touch the hallow of their thigh. They no longer need correction and discipline during the plagues because they have already proven through their wrestling with God and have prevailed, thus the seal is given to them.
Another important point is when probation closes, the 144000 can no longer sin after they have prevailed and overcome because Revelation 22:11 clearly proclaims, "He that is unjust, let him be unjust still: and he which is filthy, let him be filthy still: and he that is righteous, let him be righteous still: and he that is holy, let him be holy still." The righteous are "still" they cannot be moved because they are sealed.
Next is during the plagues, the 144000 will be delivered. Dan 12:1. They will not feel the effects of the plagues nor be touched by the plagues Psalms 91:10. The Lord will hide them in the munitions of rocks Isa 33:16 fed by God, under the shadow of His mighty wings. Psalms 91:1.
On the other hand, before probation closes, the saints of God whether 144000 or those who will be a part of the great multitude of martyrs, they will all experience the captivity of Satan who continues to hound and harassed the people of this world where saints will struggle and fight so hard to overcome and prevail. You can see it even now in this Vatican COVID system of Baal worship already enslaving the people today more than what this world has experienced before on a global scale. And, while this is going on, we all can see the storm brewing in the distance where we are going to be heavily tested with Sunday laws, and so, today, we are praying daily and wrestling with God to overcome this system which is built on control and sin. The Lord will surely touch the hallow of our thigh while probation is open, and it will result to dislocation where we can feel the fire of God's correction. While probation is open, the saints will experience affliction and trials and tribulation and must fight so hard and struggle to cling to God and never let go. Truly, "...we must through much tribulation enter into the kingdom of God." - Acts 22:14. But the children of God do prevail, overcome and are sealed; the affliction will now be turned to the wicked where they will tremendously suffer in the wrath of God. Revelation 15:1; 16; 18...
Revelation 14:10, 11; 15-19 - The same shall drink of the wine of the wrath of God, which is poured out without mixture into the cup of his indignation; and he shall be tormented with fire and brimstone in the presence of the holy angels, and in the presence of the Lamb: And the smoke of their torment ascendeth up for ever and ever: and they have no rest day nor night, who worship the beast and his image, and whosoever receiveth the mark of his name...And another angel came out of the temple, crying with a loud voice to him that sat on the cloud, Thrust in thy sickle, and reap: for the time is come for thee to reap; for the harvest of the earth is ripe. And he that sat on the cloud thrust in his sickle on the earth; and the earth was reaped. And another angel came out of the temple which is in heaven, he also having a sharp sickle. And another angel came out from the altar, which had power over fire; and cried with a loud cry to him that had the sharp sickle, saying, Thrust in thy sharp sickle, and gather the clusters of the vine of the earth; for her grapes are fully ripe. And the angel thrust in his sickle into the earth, and gathered the vine of the earth, and cast [it] into the great winepress of the wrath of God.  
Clearly, those who have the mark of the beast will suffer. They will all have no rest day or night. But for the righteous seal saints of the Lord, they have no more but trouble. They are at peace with the seal of God. They will be fully provided for and taken care of. There is no more correction, rebuke, purification, refining, chastening because salvation BELONGS to them. But for the wicked, Salvation has been removed. No more second chance.  
SALVATION
After Jacob's wrestling with God, it was then that Jacob was delivered and salvation. We can see that everything that he suffered for before he prevailed will turn into his joy and salvation. That's why Jeremiah chapter 30 describes what happens when he prevailed.    
| | |
| --- | --- |
| JACOB'S TROUBLE | SALVATION |
| Captivity | Devourer in captivity |
| Trembling, fear, no peace | Rest, quiet and not afraid |
| Devoured | Devourer devoured |
| Preyed upon | Predator become the prey |
| Bruised, wounded | Wound healed, health restored |
| Oppressed | Oppressors punished |
| Spoiled | Spoiler spoiled |
| Afflicted and cried | Thanksgiving, merry, glorified |
As you can see, things have changed when he prevailed and had overcome the wrestling. Jacob had proven himself loyal and true to God even after his joint was out of place.
A very important thing happened when he was wrestling with God. When God saw that he cannot prevail, He touched his thigh. Now, Jacob is in pain yet he continued to cling and wrestled and then he prevailed. You can see how much effort he had to exert in order to hold on to God now that his joint was out of place. This is going to be our experience today. While probation is open and we cannot overcome yet, God will put us through different experiences in life where we will feel the pain of the refiner's fire but like Jacob, if we continue to wrestle and cling to God, we will come out victorious and our sufferings will transfer to the wicked, double of what we experienced or what they have done unto us.
Before probation closes, we can also experience like Jacob did with fear, trembling and having no peace.
Genesis  32:6-7 - And the messengers returned to Jacob, saying, We came to thy brother Esau, and also he cometh to meet thee, and four hundred men with him. Then Jacob was greatly afraid and distressed: and he divided the people that [was] with him, and the flocks, and herds, and the camels, into two bands; 
Jacob was so afraid of his brother Esau, especially when he was left alone. So, Jesus had to come along and train Jacob to stand through first wrestling with God. Genesis 32:24 - And Jacob was left alone; and there wrestled a man with him until the breaking of the day.
When Jacob was left alone, this is when we can say that he was an outcast, just as Jeremiah puts it in Jeremiah 30:14, 17 - All thy lovers have forgotten thee; they seek thee not; because they called thee an Outcast,
So, again, when we look at this we can see that this is what the saints will experience before probation closes, before they are delivered they will go through this first, be proven and then delivered for salvation. And truly, our own foes will be from our own household (Matthew 10:36). Many family members will leave us and forsake us, and so, we will surely feel like an outcast for standing in the truth that is founded upon the Scriptures. Many of our so-called friends will forget us. Many of them will also join in with the enemy who attacks us left and right. This experience will turn into joy and thanksgiving. So let us cling and hold on tight to our Salvation which is found in our Saviour, and never let go of Him because salvation is promised to those who will overcome and prevail.
So, what do you expect in this time of Jacob's trouble that we are experiencing today?
There are many pretenders around us. There are many liars, accusers, backbiters, murderers and deceivers around us, just as describe in the works of the tribe of Dan that is recorded in Genesis 49. These accusers of the brethren do the work of the devil to destroy the children of God. They are ready to devour anyone at anytime any of us slip-up and fall into sin, into shortcomings and what have you. Like their father of lies who is liken to a devouring lion, they will always seek to whom they may devour. This is what Jacob experienced too. He was preyed upon and devoured yet he continued to wrestle and finally overcame. There is also the fruits of the flesh and all it's lust that we are warring against today but if we are wrestling with God and clinging on to Him, He will never fail us in His promise that He will help us find a way to escape all these things (1 Corinthians 10:13). As like Jacob experienced, we should not let go of God as well.
Let me go
Genesis 32:26 - And he said, Let me go, for the day breaketh. And he said, I will not let thee go, except thou bless me.
When we look into the works of Christ, we can see how the Son of God's work in the Most Holy Place will not be forever. There is a time where Christ will have to let go of us, but through His letting go of us, we shall be sealed fully by the Spirit of God. This is called close of probation where we will be delivered. Daniel 12:1 tells us that a this time will come when Michael shall stand up. This is the time when His work of investigative judgment will be over with. Jacob's reply was "I will not let thee go except thou bless me." We should also echo his plea. Do not let go of Christ UNTIL probation closes and Revelation 22:11 is fulfilled, which will be when Christ leaves the Most Holy Place to get ready to claim His redeemed saints. Our goal is to overcome before Jesus will go from Most Holy to the Courtyard and into claiming His redeemed saints into the City of New Jerusalem.
Let us also be comforted with these following passages where Christ experienced the same suffering, but even greater than us. This wicked world hated Christ first before it hated us.
Isaiah 
53:3    He is despised and rejected of men; a man of sorrows, and acquainted with grief: and we hid as it were [our] faces from him; he was despised, and we esteemed him not. 
53:4    Surely he hath borne our griefs, and carried our sorrows: yet we did esteem him stricken, smitten of God, and afflicted. 
53:5    But he [was] wounded for our transgressions, [he was] bruised for our iniquities: the chastisement of our peace [was] upon him; and with his stripes we are healed. 
Also the disciples experienced the same as they also travelled in the same path that Jesus had travelled when He was on earth.
2 Corinthians
4:8     [We are] troubled on every side, yet not distressed; [we are] perplexed, but not in despair; 
4:9     Persecuted, but not forsaken; cast down, but not destroyed; 
4:10    Always bearing about in the body the dying of the Lord Jesus, that the life also of Jesus might be made manifest in our body. 
Below is a short chart that will show us when Jacob's trouble happens and his promised salvation.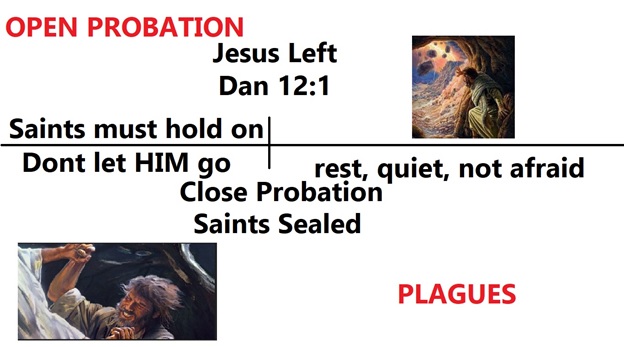 Let us remember that we have to wrestle with God ourselves. Nobody else can wrestle with God in our place. Remember what the Scriptures proclaim in Philippians 2:12 -"...work out your own salvation with fear and trembling." 
While we work out our own salvation with fear and trembling we will obey Him and not let go. Let nothing separate us from our Saviour.
Romans
8:38    For I am persuaded, that neither death, nor life, nor angels, nor principalities, nor powers, nor things present, nor things to come, 
8:39    Nor height, nor depth, nor any other creature, shall be able to separate us from the love of God, which is in Christ Jesus our Lord. 
Let us fight the battle and never let go of Christ until He finally blesses us with the seal of the Holy Spirit.